In the centuries-old tradition of Indian classical music, few living legends can claim to have single-handedly made history. Pandit Shivkumar Sharma was one of those few.
An exponent of the dulcimer-like santoor, he is credited with elevating the 100-stringed instrument from the folk tradition firmly into the fold of the classical repertoire. He passed away on 10 May 2022 at the age of 84 due to a heart attack while at his Mumbai residence.
To understand the poignancy of the loss and void he leaves behind, it's important to pay homage to his illustrious life and the many ways he came to redefine the santoor's role, modelled to the world what true embodiment of Indian classical music's ideals looks like and broached the divide between the classical and popular music realms.
Sharma's santoor
Born to Pandit Uma Dutt Sharma, the maestro also fiercely upheld his identity as the son of Jammu and Kashmir. A region known as much for its ravaging beauty as it is for being torn asunder by war and political agendas, the landscape of Sharma's childhood is rich in contrasts. And this complexity—this ability to inhabit multiple planes of existence to be at once sublimely beautiful and stupendously complex is what characterised his work.
At the Darbar Festival 2015, during an in-conversation session with Jameela Siddiqi, Sharma remarked, "70 years ago...nobody had heard of this instrument, santoor, outside of the valley of Kashmir." At the time, Sharma, who would later become synonymous with the instrument, was no exception.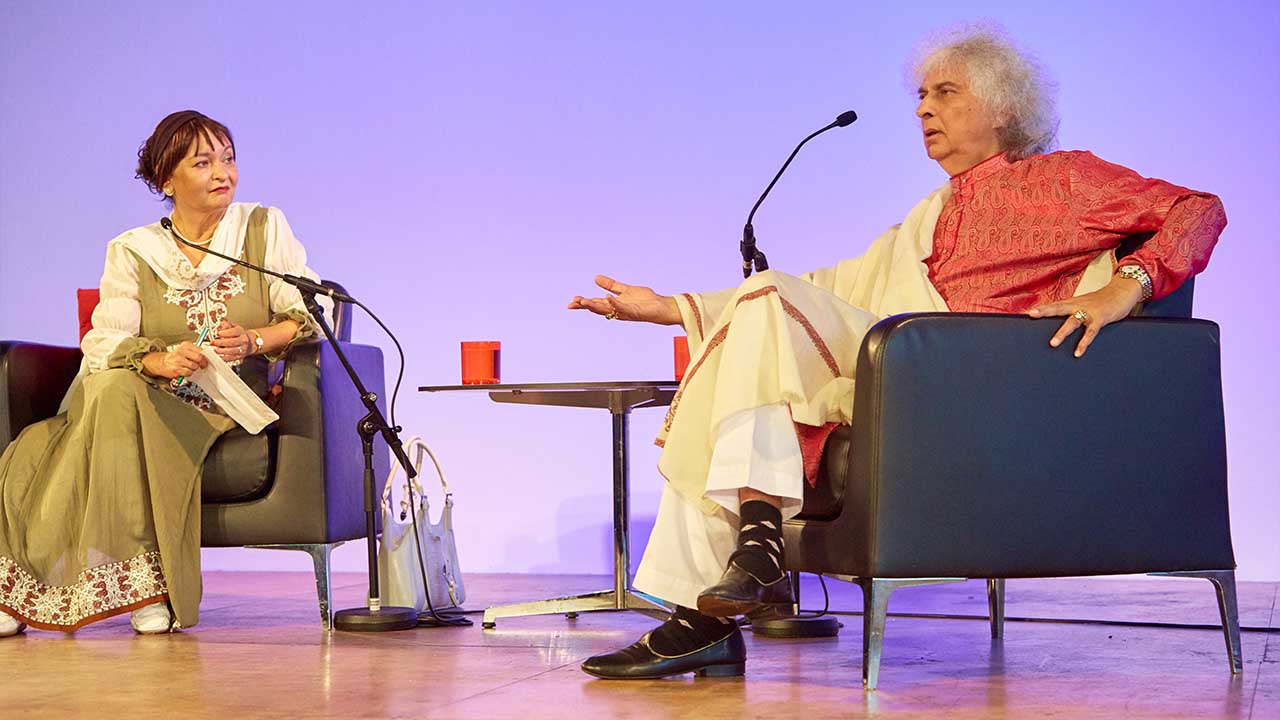 Sharma's father, a disciple of Guru Bade Ram Das Ji of the Benares gharana, was an esteemed singer and multi-instrumentalist who introduced him to vocal music and tabla from a young age. During this time, Sharma had heard the santoor only through the radio, but hadn't ever seen it live. With tongue in cheek wit, he built up the scenario, "You know sometimes it so happens, you listen to some sound, some instrument...and you get attracted towards that sound and you start imagining, 'One day, I'll play that instrument'? … That didn't happen to me."
Perhaps that's what makes the fated and eventual enmeshment of musician and musical instrument all the more pronounced, when one learns that surprisingly, the santoor was not Sharma's first choice. The saga between Sharma and his santoor is a story full of serendipitous moments—not pre-ordained legacy.
Kashmir is a land of two provinces, Sharma explained during the same talk, and his father, who headed the music section at Jammu Radio, was transferred to Srinagar Radio for two to three years. "That is the destiny," Sharma said, "Had he not been transferred to Srinagar Radio, he wouldn't have seen the santoor, and the idea of the santoor coming to Indian classical music wouldn't have taken [hold]." Likening it to Ustad Bismillah Khan and the shehnai, Sharma credited his father with conceiving the entire creative impulse behind bringing the instrument into the Indian classical music repertoire and redefining its role. Though reluctant at the time, Sharma would be the medium and the agent of change.
"My father told me, 'You have no idea what is going to happen with your name and the santoor. They are going to become synonymous.'", Sharma told interviewer Ina Puri, as reported by the BBC.
And become synonymous they did. Sharma was the santoor, and the santoor was him.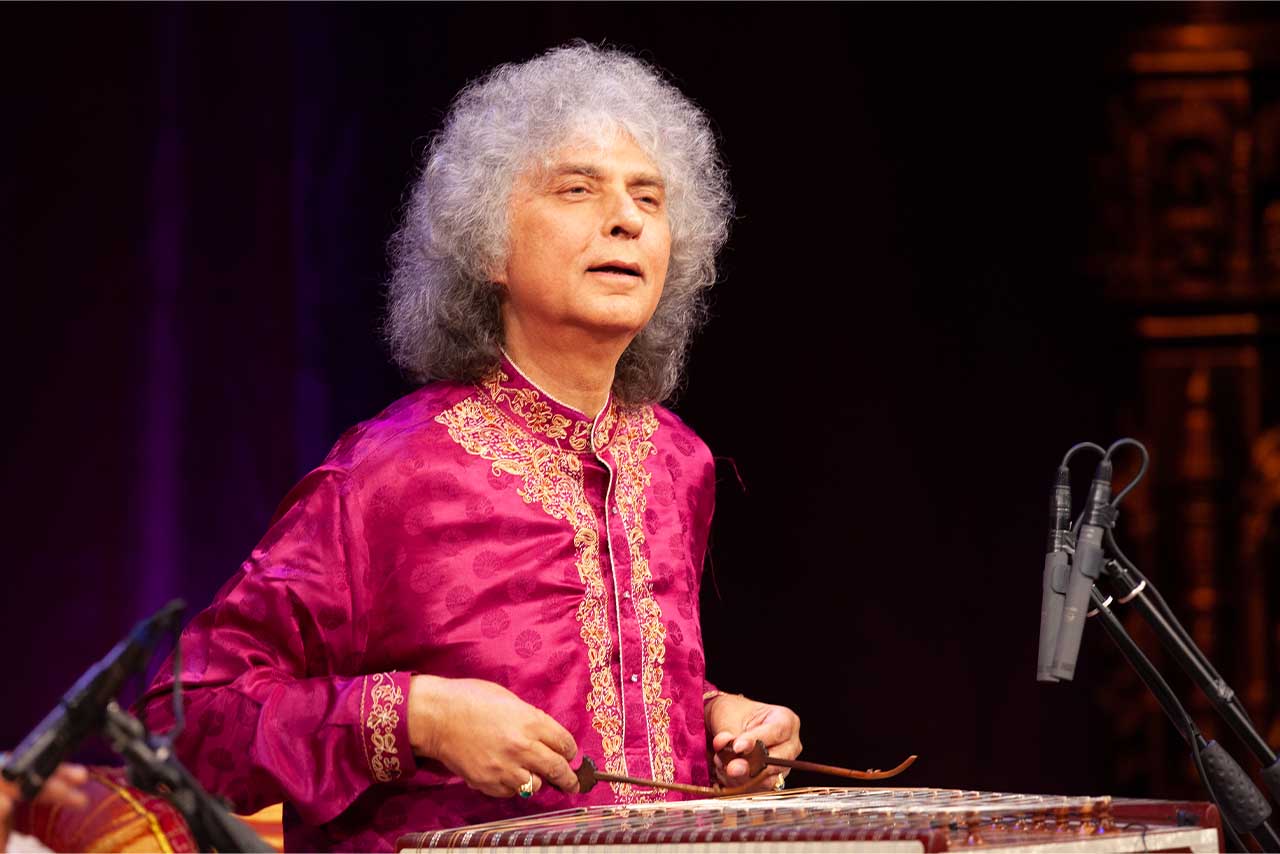 In an exclusive interview with Darbar titled 'Santoor Unwrapped' Sharma was quick to point out that the santoor is not a 'Kashmiri folk instrument', but an instrument that was used to accompany music rooted in the Sufi school of philosophical theology that is redolent with Persian influences. Compared to Indian classical music, he explained, the placement of notes and microtones in Persian music is different. In Kashmir, devotional music was presented in small, intimate settings, often with devotees clustered around the Sufi saint and singing in praise of God. The santoor accompanied this music, which is itself influenced by Indian classical music, Kashmiri poetry, Persian poetry and on a linguistic level by Iranian-Persian words.
But reconceiving the role of the santoor to inhabit a position within the nuanced Indian classical music tradition was no small feat. As father and son set about studying the instrument together, they worked out how it could be adapted to Hindustani classical sensibilities. Together, they made modifications to the instrument. Since the trapezoid-like box is struck with slim mallets rather than being plucked, the tonal flexibility of instruments like a sitar or sarod was difficult to master.
"My story is different from that of other classical musicians," he told The Times of India in 2002. "While they had to prove their mettle, their talent, their caliber, I had to prove the worth of my instrument. I had to fight for it."
While young Sharma debuted his santoor playing at a concert in Mumbai at the age of 17, he had to work for decades to establish the instrument's merit to a reluctant audience and change its tonal quality. Conservative members of the music establishment viewed his endeavour as hopeless folly. Early critics wrote that the staccato notes made it unsuitable for the Indian classical music tradition, especially portions of the composition such as the Alap, a languid exploration of the notes and phrases that set the foundation for the mood of the raag. Some even derided Sharma's choice and tried to persuade him to take up a more mainstream instrument, telling him it would be in his best interest to retrain, and that success would soon follow. To them, the santoor was an instrument deemed 'unfit' for the nuances of Indian classical music, said to lack the fluidity of the sarangi and the depth of sarod among many other shortcomings.
But the father-son duo restrung, retuned, and reconfigured the instrument, changing the weight of the small mallets used to strike it and developing new techniques that allowed Sharma to glide through a melody in dream-like fashion, capturing the essence of Hindustani music's gayaki ang [singing style].
And so, what once seemed to be an instrument with rigidity and a fixed pitch metamorphosed to be able to embrace the ornamentation, microtones and sustained resonance of notes typical of Indian classical music. Sharma's persistence and ingenuity are what made the evocative and fluid notes possible—sliding in and out of the quiet shades between each boundary—and established the santoor as we recognise it today.
"I have added 16 more strings to the original hundred, added four more bridges to the existing 25, and reduced the clusters of four strings, to three strings each. By these alterations, the tonal clarity has been improved and enriched. I can now produce komal and teevra notes one after the other. In order to make up for the lack of meends (glissando), I have devised an alternative device by which I can produce prolonged and continuous vibrations of a single note, so that the continuity of the notes can be sustained long. For prolonged pauses on a note, I slide the kalam on more than one note at a time," he told author Susheela Misra for her book, Among Contemporary Musicians.
The way the santoor evolved for and with Sharma meant that the number of strings might not have been the most definitive factor. Instead, Sharma tweaked it continuously to be able to play a range of octaves and allow him to dip in and out of different shades of ragas—whether that was with 116 strings or 92.
While the advances in musical recognition and Sharma's advocacy for recognition of the instrument are striking, so, too, is the way he became inextricably one with his santoor. Sharma was the first musician to play the eight kilogram instrument on his lap instead of on a wooden triangular stand, broaching the distance between the musician and the instrument at both a physical and metaphorical level. His advice to aspiring santoor musicians often included learning, 'a little bit of yoga' as the physical toll of sitting with such a heavy instrument on one's lap could lead to back problems. But maybe he wanted the strain. Maybe he wanted it close.
Because, against all odds, now, the instrument had become—firmly, irrevocably, undeniably—Sharma's santoor.
Sharma's santoor's trajectory
So where did he take it?
"At the start of this journey, I was not treated kindly," shared Sharma in the Darbar Festival conversation session.
To say that his career trajectory was linear and devoid of adversity would be glossing over the depth of his journey—one that was dotted with many glittering highway exits that could have potentially led to a quicker path of financial security. But these were paths that Sharma would have the indomitableness of spirit to turn down. Again, and again, and again...always with a view to never compromise on the dignity of his music or deviate from his singularity of purpose.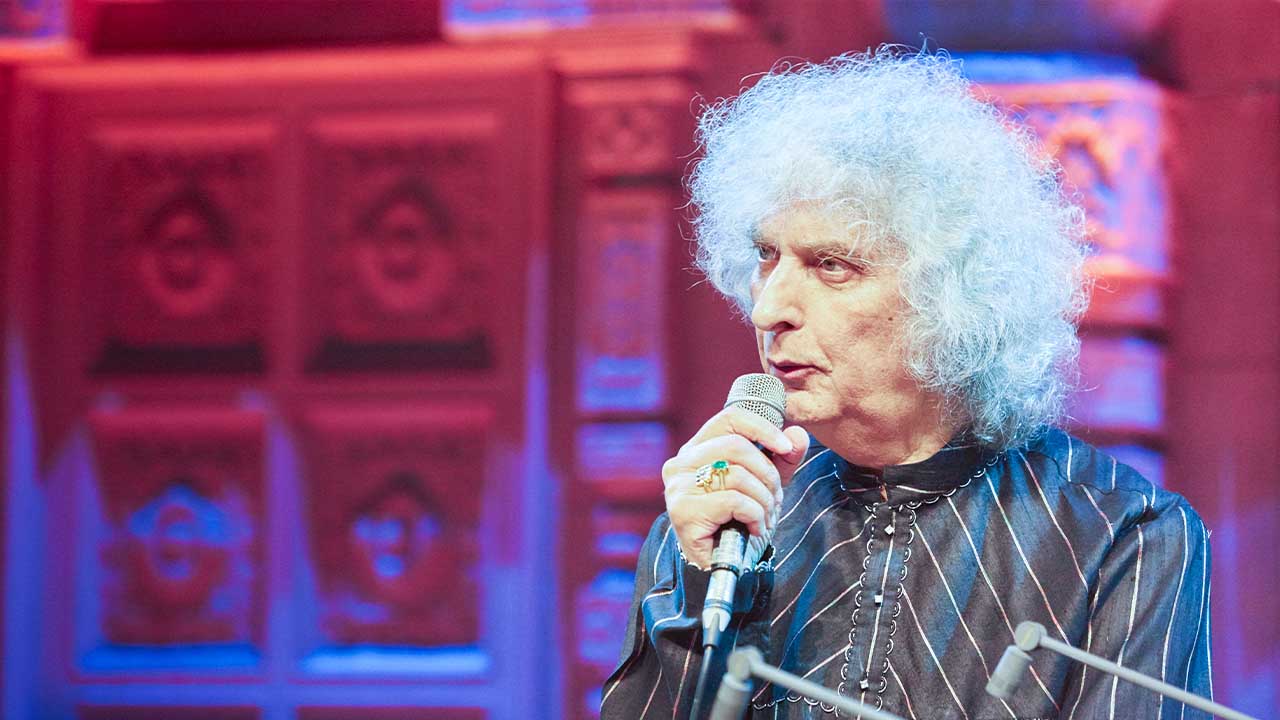 An incident he narrated during Darbar Festival 2015 illustrates this well. During his student life, Sharma was invited to perform at a concert at the residence of the Chief Minister of Jammu Kasmir, with members of the legislative assembly. The arrangements were such that the dignitaries were to sit on chairs, and the musicians on the carpet. "They asked me to play, sitting at the feet of the audience...I refused," he shared, which led to a 'big tiff' with the speaker of the assembly. But even at such a young age, Sharma was resolute. "I said, either you arrange a proper stage here or remove all the chairs." When he came home to his father, who asked if the concert was over already, he responded, "No, sir, the concert didn't happen." And upon learning the reason why, instead of being irked, his father—notably an employee of Jammu Radio at the time—said, "Son, I'm very proud of you. Never compromise on the dignity of music."
In 1960, he would tell his father he would be turning down a job offer of financial security from Jammu Radio because he wanted to be a freelance musician instead. This time, his father would be livid, but on June 1, Sharma arrived in Mumbai, with 500 Indian rupees and little more than a bag of clothes and his instrument in tow.
This, in a landscape where a typical conversation involved the inevitable question: so, you play this new-fangled instrument, but what do you do for a living? Amid rickety train rides, Sharma recalled asking passengers not to place their feet on his instrument box, and having to launch into a longwinded explanation about what he played, and why he played it, when they made further conversation.
In Mumbai, the 500 Indian rupees soon ran out. Sharma was accompanied by one of his father's disciples, which became a liability, he shared, as he had to keep up appearances even when he had no food to eat. He narrated an incident when he was resigned to drinking a bottle of water and going to sleep hungry one night, as he only had 25 paisas left. What worried him more than his empty belly, though, was what the disciple would make of the situation, and what impression that would leave of his father. As fate would have it, though, a money order arrived just in time "13 rupees and 75 paisas," he would recall, and both Sharma and the disciple relished a meal of cholay (chickpeas in gravy) and nan that night. 'I never received a cash money order like that before or since,' he mused, convinced that it was just one of the many divine intervention manifested in his life and guided his purpose.
To make ends meet, Sharma ventured into the industry of recording background scores for films. "I had to survive," he said once, of how he started his work in film scores. He drew the line at starring in a film, however, resolutely turning down an attractive acting offer that many speculate could have taken him to Amitabh Bachchan level stardom. To Sharma, though, the choice was simple. You see, he explained with almost stoic matter-of-factness, "I was struggling...to establish this instrument."
He never deviated from that path, regardless of whether the music he composed and created was for popular or classical audiences. As Manek Premchand, a historian of film music, remarked: "His work, for much of the sixties and some of the seventies, kept running like a train on two tracks—his work in cinema, and his opus on the [classical] concert stage."
Vitally, Sharma was not rigid. He was open to new ideas and innovation, not least because he felt he had to create the santoor's own language, concepts and grammar instead of emulating the diction and register of other instruments. Without a roadmap or precedent for the santoor, he experimented with different techniques to sustain the continuity of the notes by holding the mallet in a sliding fashion.
While Sharma did not believe in changing one's music to suit the geographical terrain or predominant temperament in the place of performance (as he felt that muddled the identity of the musician and the artform) while composing music for films, he was attuned to situational analysis, story arcs and narrative structure. The common thread tying his music together, however, was always to have the audience experience the bliss Sharma himself felt while playing the santoor alone.
And that bliss was profound.
In 1967, he released the album "Call of the Valley", a collaboration with the acclaimed flutist Pandit Hariprasad Chaurasia and guitarist Brij Bhushan Kabra. The instrumental album uses ragas to tell the story of a day in the life of a Kashmiri shepherd, the lilting notes emulating the cadences and simple joys (and perhaps sorrows) of his day.
"The sound of santoor evokes an image of waterfalls and mountains, lakes and springs, shepherds and sufis," eulogised an ardent fan, Siddhartha Gigoo, saying Sharma's music brought back, 'the Kashmir of my childhood'. Ever a predominant motif in his work and the fabric of Sharma's being, Kashmir, with armed insurgence, lush waterfalls and poignant beauty, et. al, bursts forth with such vivacity and immediacy that the valley's call seems urgent—pressing, almost. The album is hailed as one of the most influential releases of the era, playing a formidable role in bringing Indian classical music to a wider, global audience.
Over the years, Sharma and Chaurasia, or Shiv-Hari, as they became known, wrote the musical scores to a number of Bollywood films. The 1980s and '90s saw magnificent compositions, such as those featured in "Silsila" (1981), "Chandni" (1989), "Lamhe" (1991) and "Darr" (1993). His melodious contributions to Bollywood cement the versatility of his genius, and the duo were nominated for the prestigious Filmfare award in the music category for "Silsila," "Chandni," "Lamhe" and "Darr." Their collaboration continued in live shows even after their commitments to the classical music world left them with little time for film scores.
Yet, Sharma's astounding popular success never tainted his classical achievement. Sharma was known to never play his popular music at his classical concerts, and the two facets to his music co-existed peacefully yet apart, with the popular never infringing upon the classical, though the deep knowledge of classical musical undeniably enriched the film scores.
He went on to tour extensively, establish the santoor and sustain a long career at the forefront of Indian classical music. He firmly believed in the therapeutic impact and value of music, and taught dedicated students for free at his ashram during breaks from touring with his santoor-playing son Rahul, who carries his lineage forward.
For his unique contribution to Indian music, he received a Sangeet Natak Akademi (India's national academy of music, dance, and drama) award in 1986. He was also awarded two of the country's top civilian honours: the Padma Shri (1991) and the Padma Vibhushan (2001).
In 1974, he performed across North America with the sitar virtuoso Pandit Ravi Shankar as part of the former Beatle George Harrison's 45-show "Dark Horse" concert tour. In 1997, he played a lengthy tour of the USA with his son, and the duo performed the following at the WOMAD festival in Reading. He graced countless classical music concert stages with his santoor, including Darbar Festival multiple times—a rare feat for an artist as Darbar has a stringent policy limiting repeat performances. Pandit Ravi Shankar called him a 'superstar'.
On May 10, 2022, when Sharma departed from this world, his celebrity was so established, his reputation and identity so entrenched, that one of the first messages of mourning came from Indian Prime Minister Narendra Modi in his public tribute. Using honorifics, he wrote: "Our cultural world is poorer with the demise of Pandit Shivkumar Sharma Ji."
The grief his death left behind sent shockwaves through musical connoisseurs and celebrities alike, as well as the musical fraternity. In one of the most heart wrenching photos to encapsulate the ethos of the musical fraternity, tabla maestro Ustad Zakir Hussain (with whom Sharma often performed) is seen as a pallbearer to Sharma's mortal remains, and in another, he stands alone near the funeral pyre. The latter picture is captioned by a fan simply with the five words, "Yes, this is my India".
Embodying the Indian classical musician ideals
Because simply put, artists and musicians such as Sharma don't just espouse a musical school, train of thought or instrument. With their notes, and through their music, they encapsulate the reverberating consciousness of a nation—embodying the very heartbeat that makes a country what it is, and the people who they are.
In spite of his humility, one can't deny that Sharma's celebrity and recognition were larger than life. The full depth and breadth of his work's impact was witnessed in full force with a visit to India.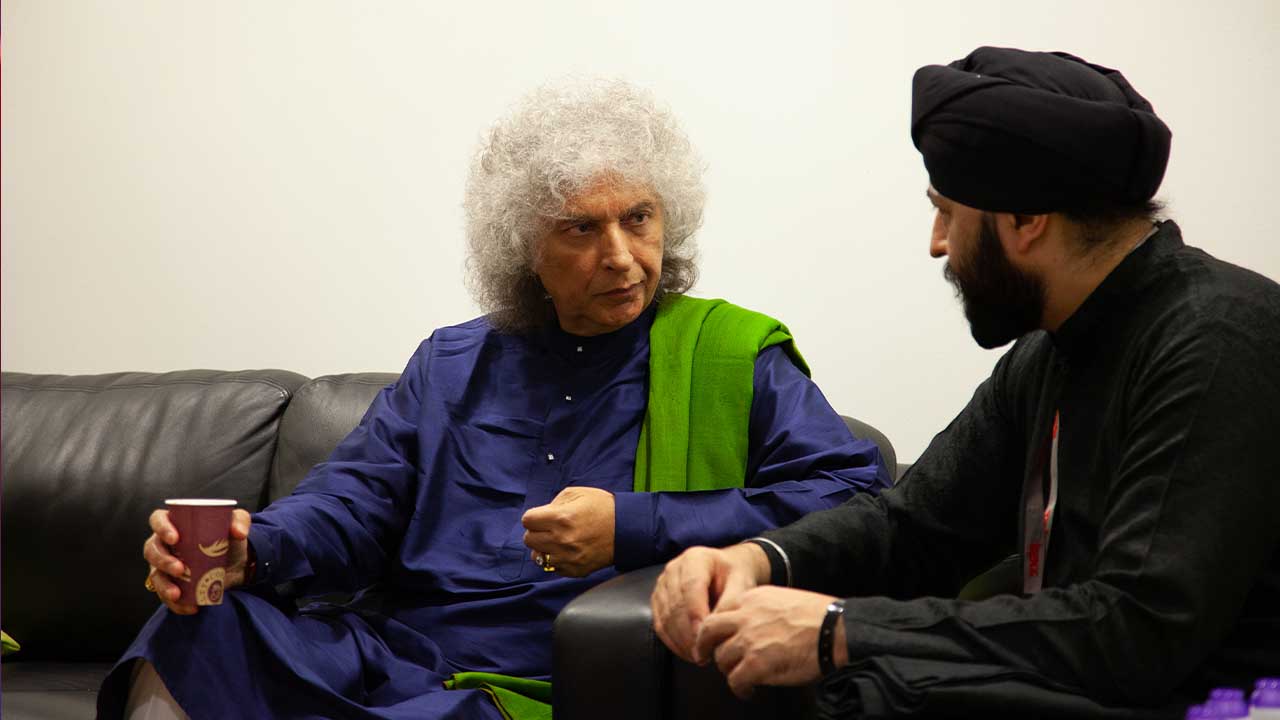 Sandeep Virdee, OBE, Artistic Director of Darbar, captured it thus: "When you go to India, it's his music that's playing in the plane...and at the airport when you land. When he'd walk into a hotel, literally everyone would do namaste. He was just that well-known. He kind of knew his position."
Still, Virdee is quick to point out that such celebrated status never interfered with Sharma's embodiment of the Indian classical musician's ideals. His persona—both the physically recoginsable demeanour and grace, as well as the aura surrounding his actions—just oozed sophistication and class.
"He had class," says Virdee. And the thing about class is, "Either you have it or you don't. He was one of those classy people. Out of all the living legends, if I was really to be fair, I'd say he was one of the nicest people and a living embodiment of what an Indian classical musician should be. The way he entered a room, greeted people, even the way he drank tea."
Of his musical accomplishment, Virdee believes, "Anyone who can remain on top of their game for six decades is truly remarkable. He lived a life of celebration, and he was spiritually elevated."
This connection to spirituality was underscored by Sharma himself during his lifetime. He often credited the divine power guiding his purpose, and even remarked that it was his 'duty to publicly acknowledge that divine power' at Darbar Festival 2015. Because for him, music and spirituality were two sides of the same coin. He believed that music always has, can and should serve a higher purpose than entertainment alone.
For Sharma, faith, spirituality and music were interconnected since time immemorial. A deeply spiritual individual, he always maintained that the essence of his music was in looking inwards. Yet, for all practical purposes, he straddled two worlds. One, in which classical music was his playground to do what he willed, and one in which popular music catapulted his santoor to skyrocketing recognition and success. Tied with the common thread of divinity though, somehow, these worlds never clashed. The music was never compromised. And despite all odds, Sharma and his santoor persevered.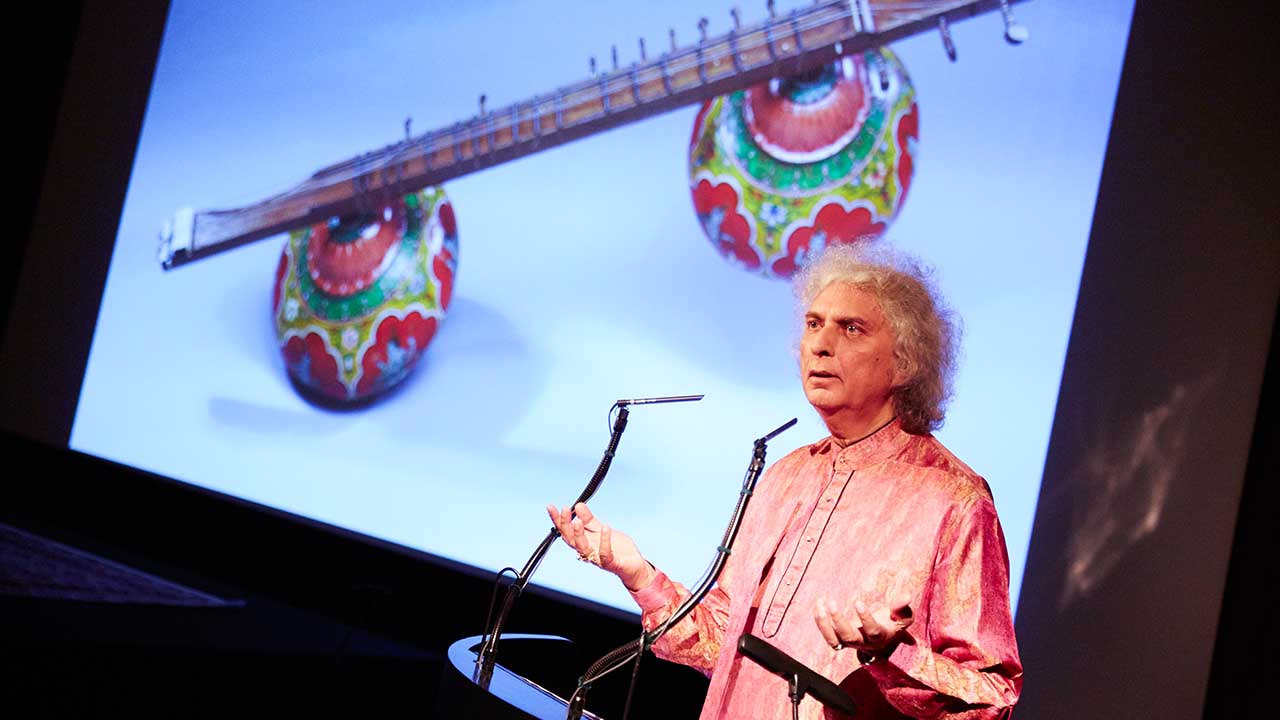 In his September 2015 speech for Musical Wonders of India at the V&A symposium at the V&A Museum, London, Sharma began with his characteristic humility:
"To talk about Indian classical music is a big responsibility. I'm still trying to understand what it is."
Pausing for a moment, he asked the audience to imagine a world without music. "No music of any genre. Can you fathom that situation? I think we would have gone insane. Music is the greatest gift God has given to mankind." Though there was still a lot of insanity in the world, he quipped, music was, for him and for humanity—a saving grace.
And he was a saving grace for music, no matter how vehemently he tried to deny it.
During the 2015 foyer in-conversation session with Darbar, Sharma first stated that he preferred not to be called Pandit, then skirted questions with a disclaimer that he disliked saying "I" so much during interviews and wished the audience to know that his body was simply the medium through which the music was flowing.
With typical wit and grace, he then lamented how loosely terms like pandit and legendary are used today, saying that these days, it seems,
"Everybody's a legend. I don't know how and why or when one becomes a legend."
And while it's true that the anatomy of 'legends' in the Indian classical music tradition remains largely obfuscated and obscure, of one thing, we're certain.
Pandit Shivkumar Sharma Ji: you were one of them.