"I focus on the first Dha which will compel you to listen to the tabla!" Pandit Subhankar Banerjee.
Note: Dha is a syllable in the spoken language of tabla created by playing 'Na' and 'Ge' simultaneously.
On Wednesday, August 25, 2021, tabla maestro Pandit Subhankar Banerjee left this world after a grueling, drawn out battle against COVID-19.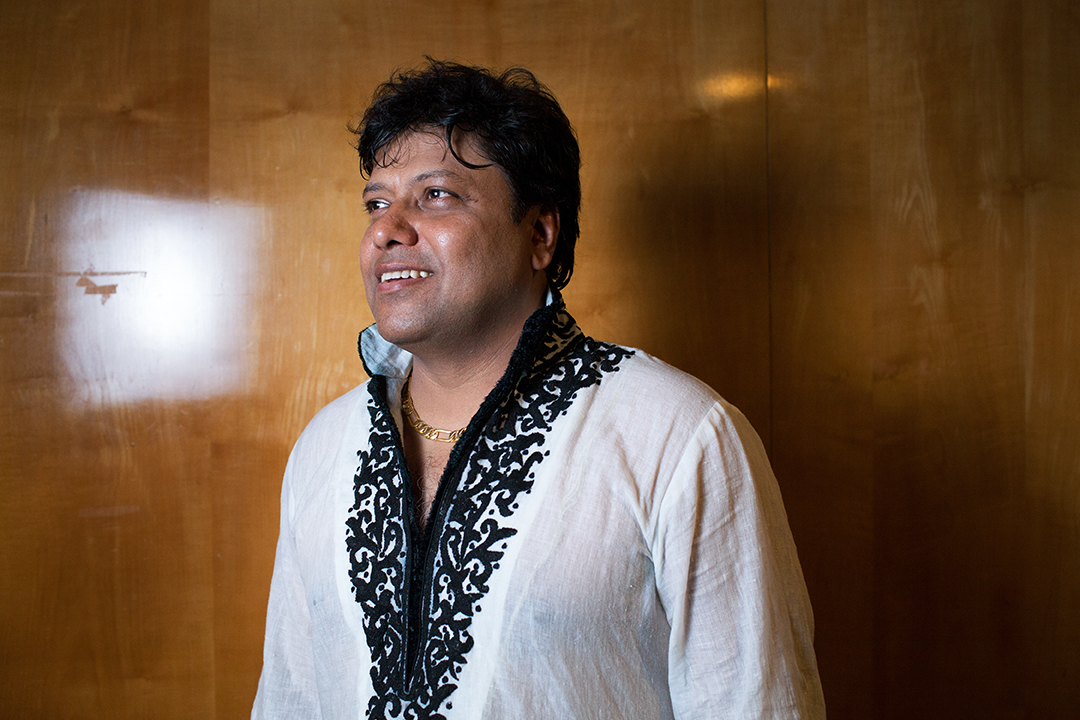 Although he was fully vaccinated, the severe infection led to septic shock, ultimately requiring him to be on prolonged ECMO (last resort life support via extracorporeal membrane oxygenation) since July 2. He succumbed to post-Covid complications and acute renal failure, according to Medica Superspecialty Hospital, where he had been admitted and was undergoing treatment since June.
His death has come as a shock to many of his dear friends, who had all been rooting for his recovery. Mere days before his passing, while still on ECMO support and unable to speak audibly, Banerjee still recognised and mouthed the name of the decades-old recording played for him at his nursing home, shares Tejandra Narayan Majumdar.
Such was his dedication to the artform—from the first Dha...to the last.
The loss of laughing Buddha
With him, the Indian classical music community has lost not just one of the finest tabla masters, but an agent for change and empowerment in his fraternity, a trailblazing hero who helped turn a hitherto elusive dream into a reality. With authentic talent, unparalleled grace and a 'laughing Buddha' or 'forever smiling' persona, according to Flautist Rakesh Chaurasia, Banerjee facilitated the crossover of tabla into soloist territory with his eclectic style.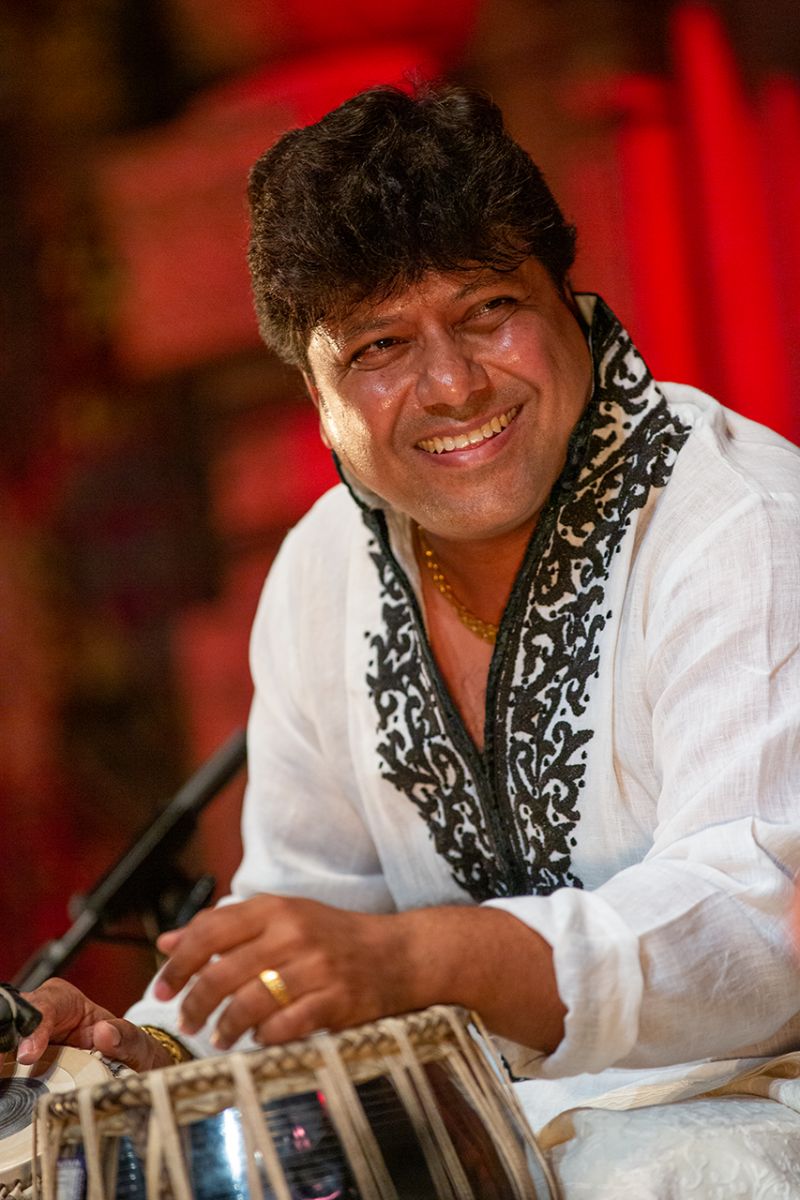 Sitarist Purbayan Chatterjee, who encapsulates his relationship with Banerjee as that of a, "Dear friend, beloved and much admired and esteemed colleague," flew to Kolkata to pay his final respects, and mourns the loss of, "One of the most aesthetically pleasing...musically gifted and visionary tabla players that I've had the privilege of knowing or playing." For him, Banerjee was like family, making the loss deeply personal, but he is cognisant of the shockwaves his death has sent through the community as a whole, both within the Indian classical music world and beyond.
Today, Banerjee is remembered for his numerous musical accolades. His expansive rhythmic imagination led to a range of top accompaniment slots, as well as performances with the London Symphony Orchestra and jazz masters such as John McLaughlin, Chico Freeman and Gil Goldstein. He played for Hollywood films, and performed at the Nobel peace Prize ceremony. He enjoyed an esteemed position of playing for a concert organised in celebration of Pandit Shiv Kumar Sharma and Pandit Hariprasad Chaurasia's 50th birthdays, and recently accompanied Ustad Rashid Khan at this year's Dover Lane Music Conference. He was awarded with the Sangeeth Samman and Sangeeth Maha Samman by the Chief Minister of West Bengal, and ranked the youngest top grade tabla player by All India Radio. And yet, Banerjee's prolific career on stage—once so dizzyingly booked that his frequent crisscrossing through the UK left authorities in France puzzled—is not his only legacy.
He carried forth the vision of his mother, renowned singer-composer vocalist Kajalrekha Banerjee, with the eponymously named Kajalrekha Musical Foundation, and often urged, "...music lovers, corporate houses and development actors," to unite and provide support to children with immense musical talent but grappling with the reality of special physical needs—a cause especially dear to his heart as his mother was a polio survivor. Many of his students feel that his passing has left a void, and contemporary musicians lament the loss of his unique brand of energy.
"This loss is irreparable," tweeted Ustad Zakir Hussain, who is known to have regarded Banerjee as one of the top 15 tabla players of the world during a memorial concert for his father, Ustad Allah Rakha Khan.
Improvisational dexterity
Trained in the Benares gharana under Pandit Manik Das before an extended apprenticeship in the Farukhabad gharana under Professor Swapan Siva, Banerjee's eclectic style was the result of permanently open ears. His style reflected his ability to absorb and embrace diverse musical influences, imbibing richly varied styles suited to many a discerning audience.
Even amid South Asia, his artistic prowess was acknowledged by various leaders at different times—the Government of Pakistan invited him to commemorate the nation's 50th anniversary in 1997, the President of India showcased his talent in the Festival of India in Brazil in 1998. His stoic tabla—at times rounded, at times staccato, at times languid, and now, lost—was the soundtrack to many pivotal moments in history, the rhythmic beat to which the world, full of connoisseurs and newly initiated music lovers alike, danced to. His style was widely appreciated—from 'Calcutta to California' (coincidentally the name of one of the albums to his credit), and beyond. And his willingness to evolve and take on new challenges, while still somehow remaining entrenched in his roots, allowed him to reinterpret many new styles and make them his own.
Described by Sitarist Niladri Kumar as a 'thinking tabla player', Banerjee's nimble dexterity was a sight to behold—as palpable in the music as it was in his hummingbird-esque, flitting finger movements—and may be attributed at least in part to his vast experience in various realms of music. His approach seemed to be emblematic of bending, not breaking—a style Kumar says entailed 'adapting' himself depending on whether he was accompanying a vocalist, instrumentalist or dancer.
Redefining accompaniment
And despite his highly coveted success and sought-after status as a soloist, Banerjee took his role as accompanist very seriously, elevating the entire field into an almost mystic artform.
According to Chatterjee, Banerjee's lesser-known prowess as a formidable and beautiful singer in his own right allowed him to, "...appreciate every subtle nuance of every instrumentalist, every vocalist. He could connect and lock in with anybody he played with."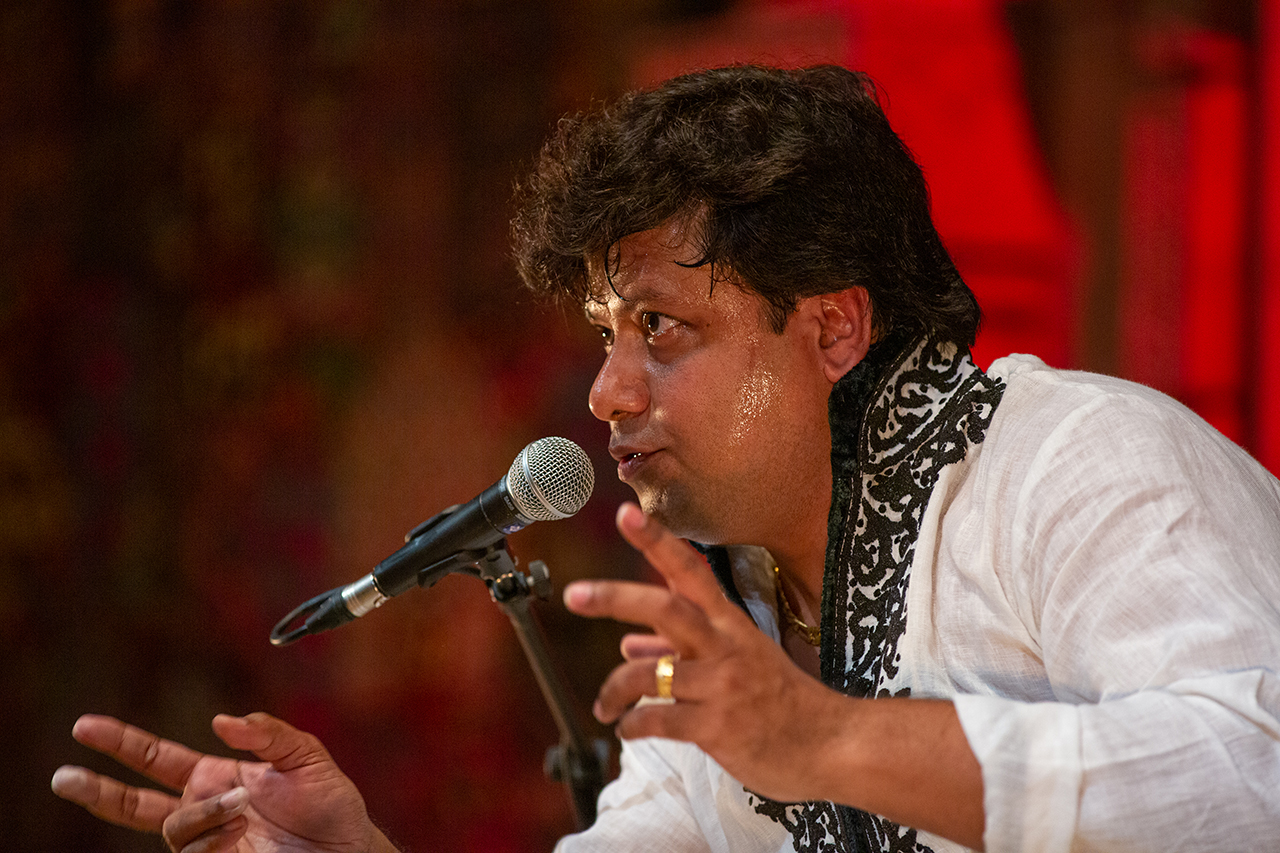 The synchronisation came both naturally and as a result of careful conscientiousness. "I also diligently follow an artist's work before performing with him," Banerjee shared in an interview, "I think as an accompanying artist, I should be able to gauge his next move." Such intuitive understanding led to his fluid performances—as lucid in their appeal as they were lyrically captivating.
And perhaps it was this morphing, shapeshifting quality that allowed Banerjee's tabla to demonstrate just as much ferocity with Patri Satish Kumar as it did harmony in a mellifluous composition of Raag Bhairavi with Niladri Kumar. That made possible a union of North Indian and South Indian percussion with an electrifying trade of energy in a Tani Avartanum, or to chime hypnotically with the sliding violin of Kala Ramnath.
Vocalists often waxed poetic about his accompaniment, with acclaimed vocalist Kaushiki Chakraborty reported to have insisted on his accompaniment at the Dover Lane Music Conference in Kolkata. Banerjee's tabla softly punctuates her effervescent vocals, pulsating along with her breathtaking performance, helping it grow exponentially without ever being overbearing.
Accompaniment, as exemplified by his tabla, was not a light affair, but his means to transcendental music.
Shades of perceptive bol
Banerjee had exposure to both classical and commercial music, something he started off with in his earlier years and a space in which he enjoyed equally phenomenal success accompanying the likes of Arati Mukherjee, Shriradha Banerjee and Lata-kanthi.
In fact, his humble beginnings stand in stark contrast to his illustrious fame. Unlike many others, he had no eminent lineage, no prolific guru influence, and his history was not steeped in tradition. In an interview with Times News Network, he remarked, "I take pride in my bypass gharana." According to Pandit Bickram Ghosh, "True talent was his only godfather." Unfortunately for many, he may have been the exception—not the norm.
But it was his earnest struggle, his boundless enthusiasm and unwavering dedication, that allowed him to take on the shades of so many styles of music. No style, house or task was too minute or too monumentous, and he was able to use his multifarious influences with voraciousness, ultimately blending it all into one harmonious whole. In 2002, he even acknowledged the similarities between Greek ethnic and Indian folk music—an unexpected analogy, but one supported by the common heavy Turkish and Arabian influences both styles share. His tabla allowed him to probe into the heart of a culture and emerge with the ethos, encapsulated neatly in a bol (a mnemonic syllable in the language of tabla).
As Banerjee said in an interview, through, "...the help of perceptive tabla," he sought to take songs to even higher planes. And his nuanced understanding of the diverse yet complementary nature of the sparsh (Hindi for touch) of different notes helped him accomplish that goal. By weaving in a touch of the preceding swara or sur during a transition to the next, he wove a complex tapestry for his audience, beautifying the entire composition and smoothening the switch in both technical and aesthetic terms.
Always easy on the ears, never jarring. Perceptive and not imposing. Inclusive, never discriminatory. That was the legacy of Subhankar Banerjee.
The space left in the story
In an interview recorded little over a year before his death, Banerjee dissected metrical tips for beginners and unpacked the hidden complexity within widely considered 'beginner' bols. He urged aspiring musicians to focus on the 'roundness' of the sound rather than tempo or speed alone.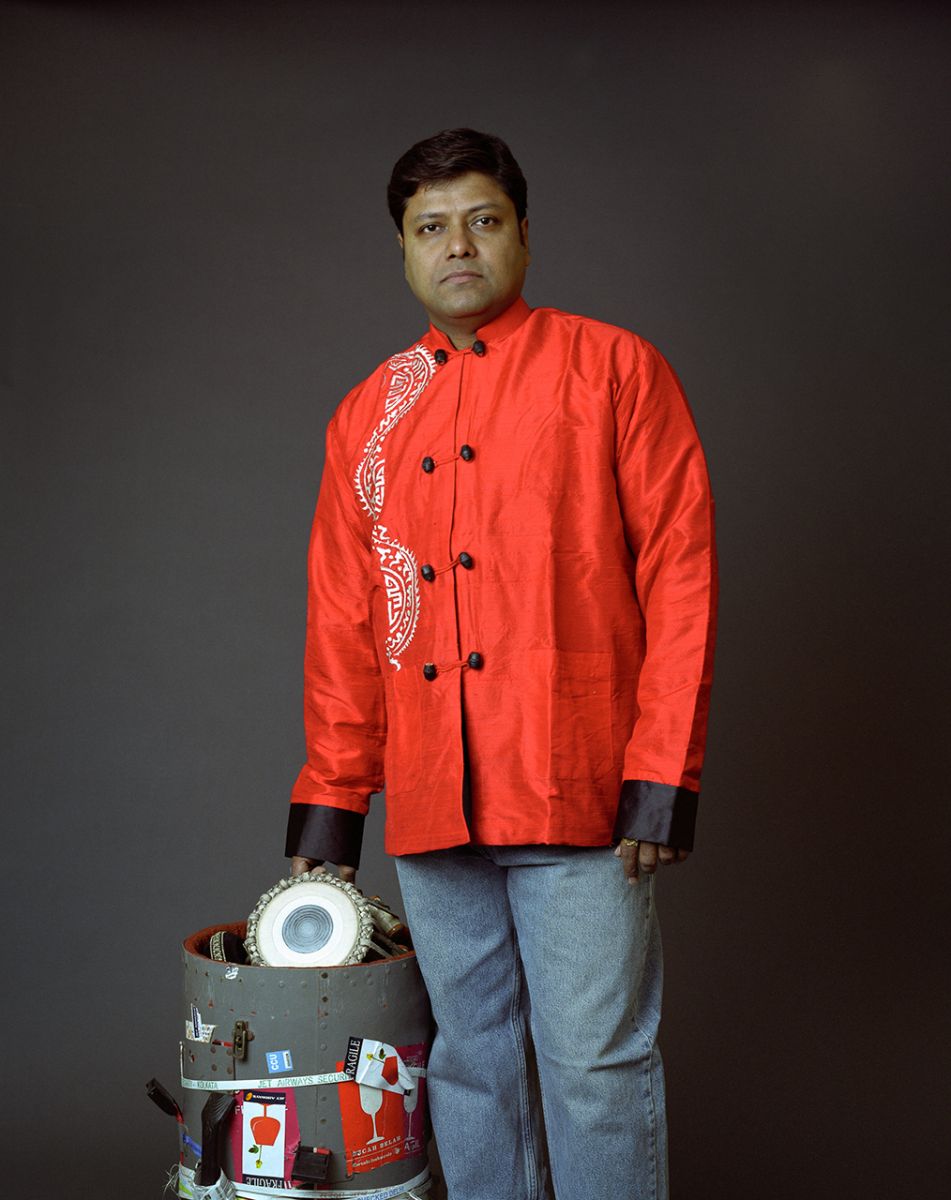 And he urged, almost plaintively, that, "Not a single possibility [permutation or arrangement] of a single phrase should be left [unexplored]." While playing the tabla, he explained—regardless of whether it is solo or in accompaniment—being mindful of the space each bol takes up helps the master storyteller (the musician) know how much of the story is left, he explained.
And although nothing short of a premonition could have warned him of the little space left in his own story here on Earth—Banerjee explored every bol to the fullest.
As Chaterjee says, "He's an example for many musicians. His joy stemmed from his art. And that is probably why he could keep a smiling face at all times. Every time I listen to a piece of music where he has performed, I'm just totally in denial that he is no more."
There is still space in the story left yet.
In every one of his bols that lingers.
In every Dha.
Watch the full solo on the Darbar Concert Hall.