---
Welcome to Living Traditions - a new written collection by Darbar's George Howlett, exploring how music with ancient roots is adapting to a fast-paced, interconnected modern world. Expand your appreciation through 21 different perspectives on 21st-century Indian classical!
---
Darbar are committed to demystifying India's classical arts for a global audience. In Living Traditions we interview eleven of today's leading artists on how they create, think, and live, spanning Hindustani, Carnatic, Dhrupad, and dance. Also featured are ten in-depth essays, covering various technical, social, and mystical dimensions of the music itself, examining how it manifests across diverse new contexts.
The articles are aimed at newcomers and connoisseurs alike, and can be read in any order. No previous knowledge is required - we go far in, but explain along the way, matching the words to the sounds using clips from our 14-year video archive. Darbar does not believe in diluting or oversimplifying - this would be to disrespect our audience. We prefer to preserve the depth and detail, and take more time in explaining when needed.
All key concepts are defined inline, and linked through to dedicated pages from our separate bank of 80 short Educational Articles. We also have over 140 new Artist Pages, containing brief biographies and videos of our past festival performers. These great creative forms are for everyone - all you need is a willingness to abandon preconceptions and open your ears.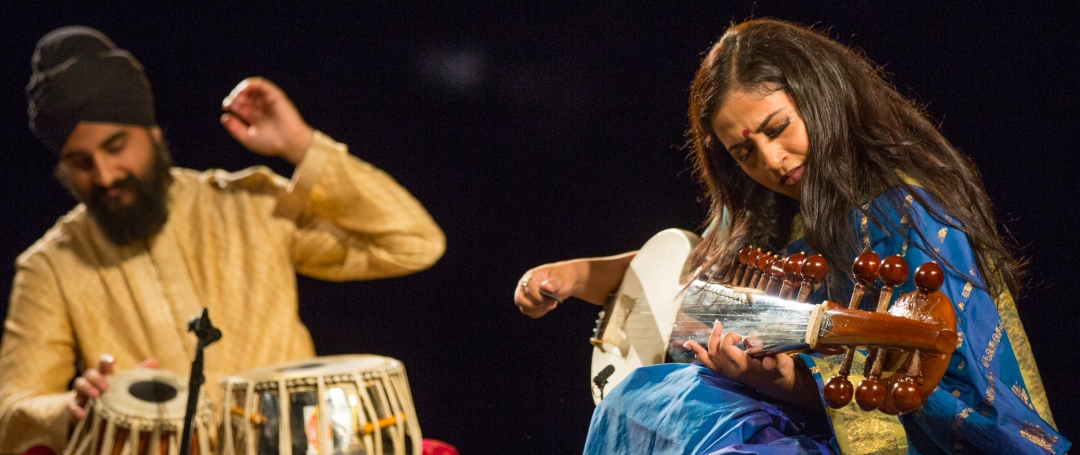 Debasmita Bhattacharya & Gurdain Rayatt at Darbar Ravenna 2017
---
Eleven Interviews: artists in their own words

Shahid Parvez and Ojas Adhiya enrapture at Darbar Festival 2018 in London
---
Ten Perspectives: Indian classical from different angles
How your favourite genres chime with Indian classical - Discover Indian classical music via styles you already like. This article builds sonic bridges for fans of jazz, rock, blues, jungle, hip-hop, house, techno, ambient, minimalism, Western classical, and more.
Singing sculptures: India's curious musical instruments - Examining the music and modern contexts of ten strange, beautiful instruments from India's classical traditions. Features the surbahar, taus, chaturangi, rudra veena, sitar been, tabla tarang, jaltarang, sarangi, ghatam, and morsing.
---
—George Howlett is a UK-based musician and writer, specialising in jazz, rhythm, Indian classical, and global improvised music. I studied Hindustani music under Pandit Shivnath Mishra in Varanasi, and now play guitar, tabla, and santoor in London. Recent releases include No Kanjira, a collaboration with Indo-jazz sax master Jesse Bannister - find out more at www.ragajunglism.org
---
---
Darbar believes in the power of Indian classical music to stir, thrill, and inspire. Explore our YouTube channel, or subscribe to the Darbar Concert Hall to watch extended festival performances, talk and documentaries in pristine HD and UHD quality.
---
Be notified when we add a new articles