For tar-shehnai and dilruba artist Kirpal Singh Panesar, the fourth time was a charm. His is a story of the diligence and self-effacing dedication that is often required of the artform.
Kirpal Singh Panesar resided in the UK when he began his musical training—learning the tar-shehnai from 1996 and the dilruba from 1994—and successfully attained tutelage under Bhai Surjeet Singh (a disciple of Pandit Ram Narayan).
He explains that the tar-shehnai and dilruba are both bowed instruments—though the size and shape of the bottom part, the resonance, is different—and similar to the esraj, feature prominently in Sikh kirtan. Tar is a Hindi word for wire, and the tar-shehnai is so called because the gramophone horn attached to it (to control and enhance the sound) renders the esraj-like instrument's sound similar to a shehnai, hence the name tar-shehnai.
But Singh saw talent in Panesar that would benefit from more rigorous training, from one of the living legends at the time himself, and on the rich fertile soil of India. Only 16 at the time, Panesar set out for Benares, to initiate a guru-shishya relationship with none other than Ustad Bismillah Khan himself, at the behest and prior communication of his spiritual leader.
"I am very lucky and privileged to have learned from him," shares Panesar, adding that even though his instrument was different, "Ultimately, I learned to play in Khan sahab's style."
It was not a simple and linear path. After a flight from London to Delhi, Panesar made the two-day train journey to Benares, in North India's state of Uttar Pradesh. Upon arriving at his doorstep, Panesar was told Khan's health had taken a turn for the worse. He journeyed back to the UK, only to return again a few months later.
Another flight, another train journey, another knock on Khan's doorstep. This time, his son-in-law had passed away, so the family was in mourning and not accepting visitors. Unfazed, Panesar would replicate the entire journey a third time, hopeful that the third time would be the charm. But this time, the message he received at the maestro's doorstep was that Khan's arthritis had flared up. The fourth time, Panesar undertook the same journey, this time taking a flight from Delhi to Benares. He was told Khan was traveling to Delhi for a concert via train. Determined, Panesar sought a ticket on the same train Khan would be aboard, and as fate would have it, ended up across from him.
"I'd describe it as both a grueling but liberating experience," says Panesar, "I'd come to [Khan sahab's] door and be sent back. The first time I met my ustad was on the train. The first time he heard me was on train." In fact, the meeting that began en route to the concert culminated in Khan introducing Panesar at the concert in question, at Nehru University in Delhi.
The surreal and serendipitous start to his journey—regardless of how rocky it was at the outset—proved to be a harbinger of magical times to come. Though Panesar learned the hard way how difficult it is to gain access to an ustad such as Khan Sahab, he shares, afterwards, "He treated me like a son."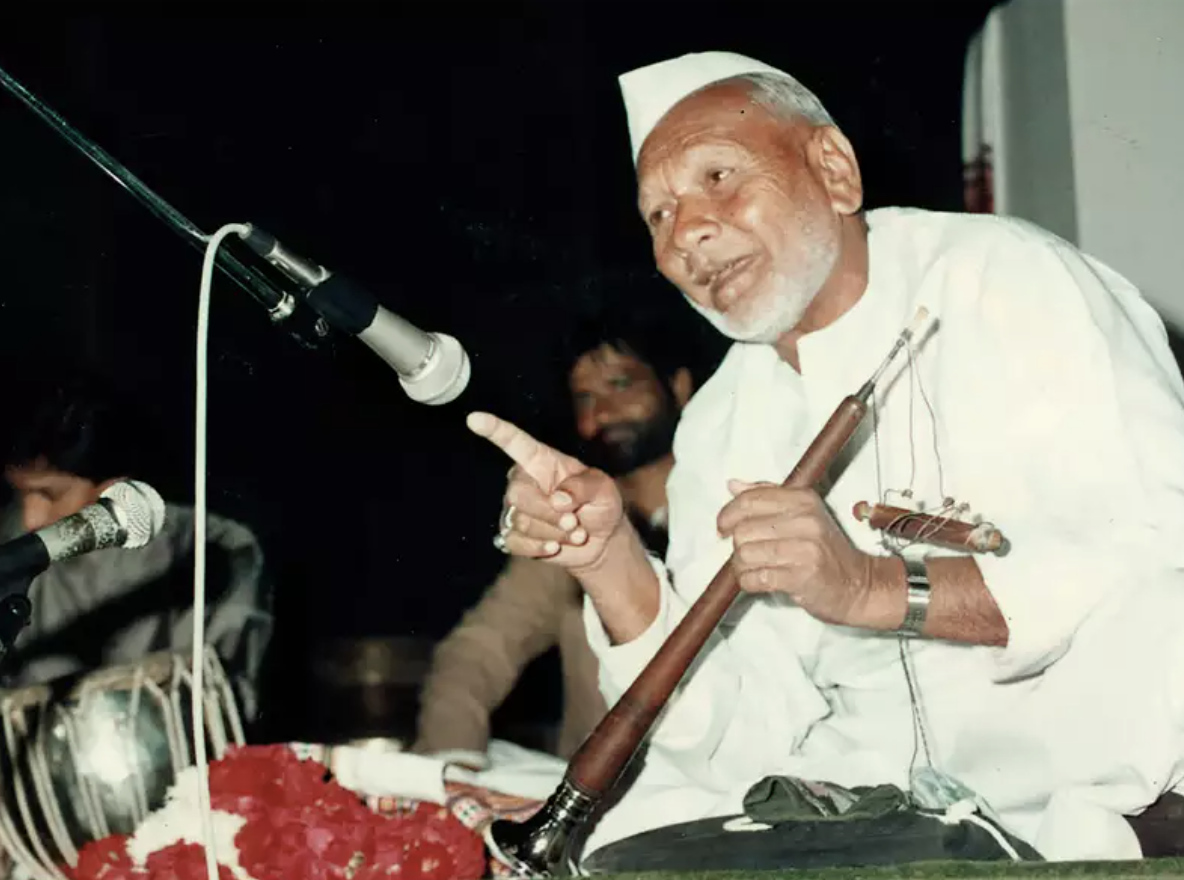 He has since performed at multiple prestigious venues, such as Lowry Theatre in Salford, Purcell Room in London and Curve Theatre in Leicester & also performed extensively across Europe and India. He also cherishes a longstanding relationship with Darbar.
"It [Darbar] is a great platform for India and the world. Even hearing your own instrument properly miked is so rare. Darbar has really set the benchmark and it's almost like every musician's ultimate goal...to want to perform on a Darbar stage. We're all very fortunate," Panesar says.
But his expertise is a marriage of soulful understanding of the ethos of the music, not granular details alone. He is credited with explaining that the nuances of Indian classical music lie in the spaces between notes. "There are so many nuances in our music," he says, "Each raag has its own characteristics. We only know a small element. And to discover the ragas and what they entail...it can take decades."
That's because each raag comprises of a main note, the vaadi, he explains—one of seven main notes and the samvaadi, the second most prominent or secondary note. And it's in the transitions between the notes, sub-notes and their many variations that Indian classical musicians bend the note and gradually approach it.
"There are so many ways of getting to the 'Ga'," says Pansesar. He likens to it to a journey from London to Birmingham: "You could take the M1, the M6, the M40."
He continues, "And to highlight the importance, we choose different paths; we explore that route during the alap, where we delve into the depth of the raag and highlight its relationship." That's why some ragas can share the same notes, but the different ways they are approached renders each raag distinct and idiosyncratic.
Panesar also highlights the spirituality inherent in music in these same interstitial spaces. "There are so many possibilities, so many ways to get to that note, so many subtleties and micro notes or shrutis. You need a really good teacher because there are just so many possibilities within the space of two notes. So many different ways of getting to that 'Sa'...Just like there are so many different ways to reach God." For Panesar, music is that route.
He still feels incredulous at times when he reflects on his profound spiritual growth through the medium of music, "I never knew it could involve me being on this type of journey," he says, "I never thought I'd learn so much about spiritualism from an ustad, like Khan Sahab." Like his fateful, four-fold journey many years ago, it hasn't been a straightforward and linear path. Yet, it has been a supremely rewarding one.
In a beautiful analogy, he says that Indian classical music reminds one of how big it is in its tradition, and how small one is in comparison. "It's like the Himalayas. You climb such a tall mountain, and then see there's a higher one. Indian classical music is an ocean. I've been in it for so many years, and the water's just up to my ankles. And it's not about crossing," he says, of his and many musicians' ultimate end goal: "It's about drowning."